Viewing your DNS records in the panel
The following describes how to make changes using the legacy Manage Domains page in the panel. DreamHost recommends instead using the Websites page to make adjustments to your DNS settings.
See the following article for more information:
You can review all of the DNS records that are set up for any site you host at DreamHost on the Manage Domains page.

Under the domain name, click on the DNS link: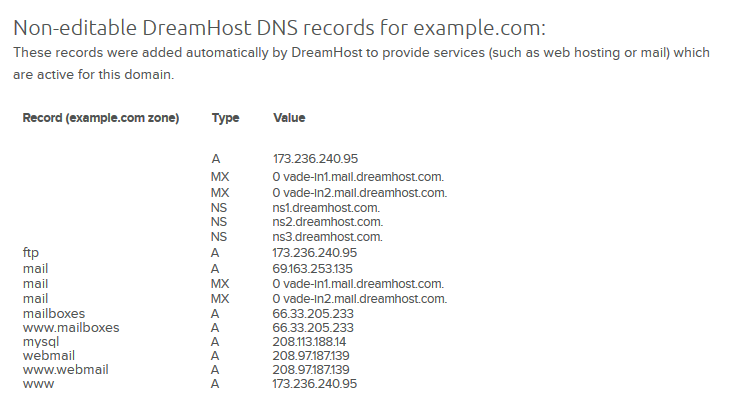 The details for each column consist of the DNS record set up for your domain:
Record
Type
Value

Shows the service for this record.
For example, if you have a record for the 'www' service, the 'www' name will be listed under this column.

Shows the record type.
For the 'www' hosting service, you will see 'A' here as it would be set up as an 'A' record for that service.

Shows the value for that record. You will see a different value here depending on the type of record that's set up
For the 'www' record, this column will show an IP address to point the 'www' record to so that it's hosted with DreamHost.
This information is very handy if your domain points to non-DreamHost nameservers and you need to configure any or all of these records manually to point to DreamHost services.
If you are using DreamHost hosting services (including parking or a redirect of the site), and your domain is registered with DreamHost, you should use these name servers:
ns1.dreamhost.com
ns2.dreamhost.com
ns3.dreamhost.com
As long as the nameservers are pointing to DreamHost, the records on your domain's DNS page will be applied to your domain.
Checking where your DNS is hosted
View the following article for information on how to view where your DNS is currently hosted.
DNS propagation
Once you have added your custom DNS records, they must then update online. This can take several hours. View the following DNS propagation articles for more information: