Overview
If your contact information changes, you must update your information in your panel so that you do not miss any important account-related notices. The panel also shows who is designated as the owner of the account and who is authorized to contact DreamHost support for account specific issues.
Making contact and email communication changes
To modify your contact or email address details, navigate to the Home page in your panel: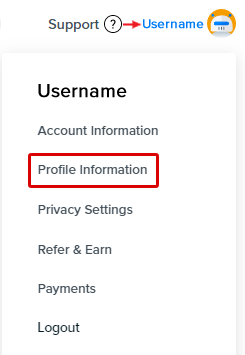 Click your username in the upper right, and then click the 'Profile Information' link within the box that appears.
The Edit Profile Information page opens:

Contact Information
The 'Contact Information' box displays contact information (name/address/phone number) for the primary owner of the account. The primary owner is automatically contacted whenever reminder emails are sent as well as account-specific notification emails.
Click the Edit button to change any of your contact information. Enter your password and then click Save Changes when finished.
Email and Communication Preferences
You must enter a primary email address for your account that's not hosted at DreamHost (i.e., hosted externally, such as Gmail, Yahoo, or another personal or work email hosting provider).
The 'Email and Communications Preferences' box displays your primary email address and an optional secondary address for your account. The primary address is also the email address you must use whenever you contact DreamHost with any account-related requests.
You can also add an additional email address so that others can contact DreamHost on your behalf, as well as 'Delete' or 'Set as Primary' a secondary email address. 
Primary Address — Your primary email address. If you need to change it, click the Edit button, enter a new email address, and then click Set as Primary. Enter your password and then click Save All Changes when finished.

Changing your primary email address will change the email address that is used to log in to the DreamHost panel. Before changing your primary email address, make absolutely sure that the email address you enter is accurate in order to prevent any panel login issues.

 
Add a Secondary Address — You can add a secondary email address to also receive account-related information. This is useful if you need payment reminders sent to a specific person. To add an address, click the 'Add a Secondary Address' link and enter an email address. Enter your password and then click Save Address when finished.


If you add a secondary email address, make sure you do not also add this email as a new user with Account Privileges.

If you have a secondary email address AND you create a new account-privileged user with this same address, the user will NOT be able to reset their panel password.
Privacy Settings notice

The bottom section lists sub-processors DreamHost may share data with.
See also