Overview
The 'Support' menus can be found in two locations.
The 'Support' dropdown on the top right of your panel.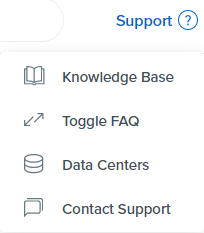 The Support menu in the left panel.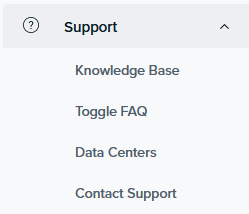 Knowledge Base
The Knowledge Base contains articles to help guide you through your DreamHost experience. You can find articles on subjects such as:
How to create an account
Adding a domain
Changing DNS
Adding an SSL certificate
and many more. The English version can be found here:
The Spanish version can be found here:
Toggle FAQ
When you click 'Toggle FAQ', several links appear at the top of the current page. These link to several Knowledge Base articles to help assist with the content on the particular page.
Data Centers
The Data Center page lists all of your services and the data center in which they reside.
Contact Support
The Contact Support page allows you to submit a support request to DreamHost Technical Support. This page includes several methods for getting support, including:
Submitting a support request, which provides links for specific issues
Posting about an emergency
Requesting Live Chat support
You can also view additional support information by:
Most queries can be answered by searching the Knowledge Base, or the discussion forum, and these should be the first ports of call in the event of a problem. If those fail to provide a solution, submitting a support request will get a response within a reasonable amount of time.
See also